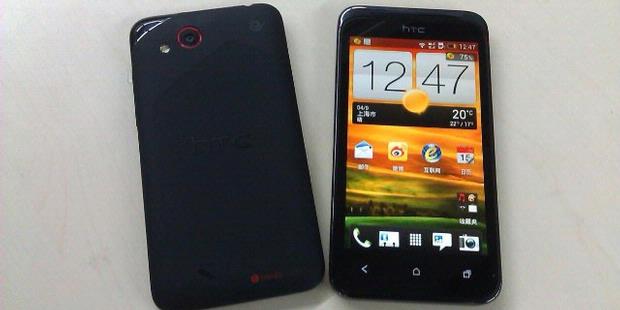 HTC has released HTC T328d VC, which supports dual SIM phones. Desire VC is the first HTC smartphone with dual network SIM (GSM-CDMA).
Head of Product Marketing Indonesia Samudro Seto explained HTC phones HTC is a continuation of the Raider who had only put on CDMA networks.
"There is demand from operators and consumers to deliver a smartphone that supports dual SIM cards (GSM-CDMA). Phone also become an alternative phone dual SIM card which has been dominated by China mobile phone," said Samudro at Media Roundtable at HTC's office Semanggi Plaza Jakarta , Thursday (21/06/2012).
This phone is running in single band CDMA 2000 Rev A 800 MHz 1x/EVDO/EVDO. CDMA card is not locked (lock) but it supports the concept of RUIM. With this network, the speed to access data faster. As for the GSM network runs on GSM / GPRS 900/1800/1900 Mhz.
According Samudro, this phone only supports 2G/GSM network. With hope, VC Desire users will be utilizing the data packets using CDMA network.
"Actually, this could be an internal debate on the HTC. Phone does not support 3G networks to its GSM. More data packets are routed to CDMA. While the phone and sms directed to GSM," he added.
Although there is a little short on the network, because it was made for the upper middle market, HTC cell phone was also awarded the VC features the latest technology. Call it the Android OS 4.0 Ice Cream Sandwich, 1 GHz processor, GPS, motion G sensor, 5MP camera with LED flash up to WVGA Camcorder.
In addition, the phone also has been equipped with Google Maps and the maps created by the Self HTC, HTC Locations. Such features can be seen in applications HTC Car with a menu containing the HTC Locations, music, internet radio (local and international) and dial.
"HTC Locations can be used to find the favorite places in Indonesia, good restaurants, offices and even the building is also obvious. Maps are more advanced than Google Maps," he said.
HTC Car application is provided free by HTC. But for paid applications, these applications will be added to designate the direction of the sound in HTC Locations.
Unlike other phones, the phone body is complemented by the anti flip cover on the back side. So this feature makes it easy to grip the phone and do not easily fall. Display screen is also relieved that the device supports touch screen display measuring 4 inches.
These specs HTC phones T328d VC:
Dimensions: 119.5 x 62.3 x 9.42 mm
Weight: 118 grams
Screen: touch screean 4 inch 480 x 800 pixels
OS: Android 4.0 Ice Cream Sandwich with HTC Sense
Processor: 1 GHz single core
RAM: 512 MB
Memory: 4GB internal (external memory support)
Network: GSM 900/1800/1900, CDMA 2000 1x/EVDO/EVDO single band 800 MHz Rev A
Features: Internal GPS, Bluetooth, A2DP, WiFi, 5MP camera, camcorder WVGA, HTC Car, Google Maps
Battery: 1650 mAh
Color: black
Availability: July 2012
Duo Desire Different Generations
In addition to introducing VC HTC, the Taiwanese vendor also released two series of Desire but different generations. The one for the lower middle series (low end), one for secondary (middle up).
For the lower classes, preparing HTC HTC Desire C A320e. This phone has specifications similar to the HTC Desire VC, but the network has only one GSM SIM card.
While the high side, setting up HTC HTC Desire V T328w. The phone also has a similar specification to the HTC Desire VC. However, this phone supports dual SIM cards (GSM-GSM).
"If the SIM card in VC Desire to be active both, HTC Desire V is only active one," said Samudro.
HTC phones already support the connection V is 3.5 G. But the card only supports GSM only GSM network connection. So this phone is very appropriate to be used for packet data and packet call or sms.
These specs HTC Desire C A320e:
Dimensions: 102 x 56.6 x 11.95 mm
Weight: 98 grams
Screen: touch screean 4 inch 320 x 480 pixels
OS: Android 4.0 Ice Cream Sandwich
Processor: 600 MHz
RAM: 512 MB
Memory: 4GB internal (external memory support)
Network: GSM 900/1800/1900, HSPA / WCDMA 900/2100 MHz
Features: Internal GPS, Bluetooth, WiFi, 5MP camera, VGA camcorder, HTC Car, Google Maps, Motion G Sensor
Battery: 1230 mAh
Color: black, red, white
Availability: July 2012
These specs HTC Desire V T328w:
Dimensions: 118 x 62.3 x 9.32 mm
Weight: 114 grams
Screen: touch screean 4 inch 480 x 800 pixels
OS: Android 4.0 Ice Cream Sandwich with HTC Sense
Processor: 1 GHz single core
RAM: 512 MB
Memory: 4GB internal (external memory support)
Network: dual band HSPA / WCDMA 900/2100 MHz, Tri-band GSM / GPRS / EDGE 900/1800/1900 MHz
Features: Internal GPS, Bluetooth, A2DP, WiFi, 5MP camera, camcorder WVGA, HTC Car, Google Maps
Battery: 1650 mAh
Colors: black, white
Availability: July 2012