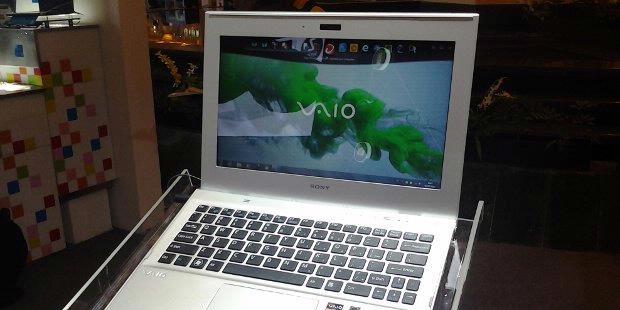 Sony again presents a Vaio portable computer model of the Series T Ultrabook in Indonesia, Thursday (07/05/2012). Ultrabook Sony T series is equipped with a slot port and full connectivity.
When compared with other brands Ultrabook that have been circulating in the markets of Indonesia, Vaio T series memilliki the most complete connectivity. On the right-hand side port 3.5 mm audio jack, HDMI, VGA output, ethernet, and SD card slot. While on the left side there are two USB ports, including USB 2.0 and USB 3.0.
In addition, the Vaio T series is also equipped with instant wake-up feature that makes this Ultrabook be light in 2 seconds of sleep position.
Image Credit
Laptoping.com

Vaio T series is available in two versions which refers to the difference in screen size and processor specifications. Vaio T11 is priced at Rp 9 million, has a screen 11 inches and equipped with Intel Core i5 processor speed of 1.7 GHz. There is also a version of Vaio T13, has a 13 inch screen and Intel Core i7 processor. This version is priced at Rp 11 million.
Indonesia Product Manager for Sony Vaio and the Tablet, Marathon said Leo, the processor on Ultrabook Vaio T series uses Intel Core i family of three generations of Ivy Bridge, the type ultra low voltage (ULV) or power saving.
Image Credit
Laptoping.com

Other specifications of Ultrabook Vaio T series, reinforced with 4GB RAM, 128GB SSD data storage media, Intel HD Graphics 4000 and the operating system Windows 7 Home Premium. Unfortunately, the display screen Vaio T series does not look "shine" when compared to competitors' products.