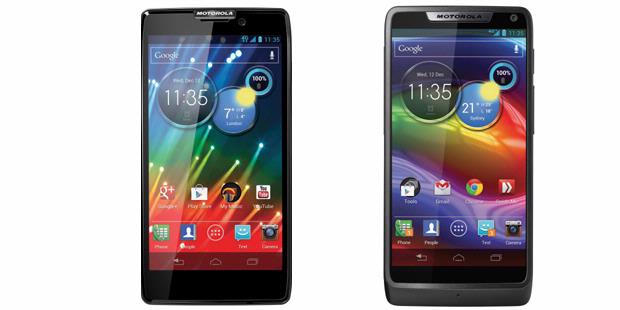 Nokia managed to steal the attention of gadget lovers on Wednesday (05/09/2012) night.
Finnish company introduced two new Lumia series has used operating system Windows Phone 8.

Not to be outdone from Nokia, at the same time, Motorola Mobility also showed off three new smartphones.
Smartphones are RAZR HD, HD RAZR Maxx and RAZR M.
RAZR HD, HD RAZR Maxx and RAZR M have in common in terms of processor, RAM, and operating system.
All three use the same Snapdragon S4 MSM8960 1.5GHz dual-core processor, the operating system of Android 4.0.4 Ice Cream Sandwich (ICS), and 1GB of RAM.

Type and large screens used by HD RAZR and RAZR Maxx HD similar, the Super AMOLED HD-sized 4.7-inch 720p resolution with the ability to accommodate.

Meanwhile, Motorola RAZR M has a screen with a smaller size with a screen measuring 4.3-inch qHD (960 x 540) Super AMOLED Advanced which is protected by Gorilla Glass.

For the camera, they also have the same image sensor, the camera of 8 MP rear.
For the front camera can be used for video calls, HD RAZR and RAZR Maxx HD using sensor of 1.3 MP and 0.3 MP M RAZR.

Capacity storage media and batteries into 2 parts that distinguish HD RAZR and RAZR Maxx HD.
RAZR HD using 16GB of storage capacity, while the capacity 32GB HD Maxx.

If the user is not satisfied with a large capacity, they can add it by using a microSD card.

For the capacity of the battery, the RAZR Maxx HD equipped with power greater than the RAZR HD.
RAZR Maxx 3.300mAh HD battery, while the RAZR HD is only 2530 mAh.

Motorola claims that the battery capacity are both excellent.
RAZR HD smartphone is claimed to be able to turn on for 16 hours.

With a larger capacity battery, the RAZR Maxx HD certainly able to last longer.
Motorola claims this product can last for 21 hours on call, 13 hours to watch the video, and 8 hours for browsing on LTE networks.

There is no information about the availability and prices have come down.