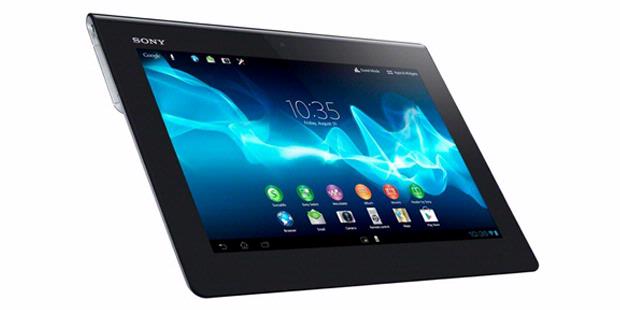 Rumors about Sony's plans to make a tablet under the trademark Xperia, proven true.
Sony officially announced the Xperia Tablet S in the exhibition Internationale Funkausstellung (IFA), Berlin, Germany, Wednesday (08/29/2012).

When compared to previous Sony tablet, Xperia Tablet S is designed to be thinner.
However, Sony still retains the distinctive design of the tablet, which is thicker on the back of the top.
The unique design is like rolling up several pieces of magazine pages.
Xperia Tablet S reinforced quad-core processor Nvidia Tegra 3 speed 1.3 GHz, 1GB RAM, 9.4-inch screen resolution of 1280 x 800 pixel IPS technology, and battery capacity to power 6.000mAh hold for 10 hours if used continuously.

Bersensor 8MP main camera and 1MP front camera.

Connectivity provides an SD card slot, HDMI input, 3.5 mm audio jack, Bluetooth and Wi-Fi for internet connection.

Currently Xperia Tablet S running an operating system Android 4.0 (Ice Cream Sandwich), but Sony promised to provide the operating system upgrade to Android 4.1 (Jelly Bean) to optimize the default application.

The default application include Watch, which alter the function of the tablet as a TV remote.
With the provision of infra red (IR), this tablet could be a universal remote control.

Then there Guest Mode, which allows users to create multiple user profiles.
The point, to prohibit other users running a particular application.
It really helps the parents to control the activities of children in using the tablet.

Sony also provides media storage service in the cloud (cloud) called PlayMemories, for 5GB.

Xperia Tablet S is available in a choice of internal memory.
For the 16GB priced 400 U.S. dollars, the 32GB version priced U.S. $ 500, and 64GB priced 600 U.S. dollars.

There are also several models of accessories to help mobility users.
Attracted the most attention is the tablet cover accessory that serves as a keyboard (the keyboard).
Accessory cover can be folded to prop up the tablet in order to be in an upright position.
There is also a
dock
accessory
buffers
include
USB
and
HDMI
ports
.