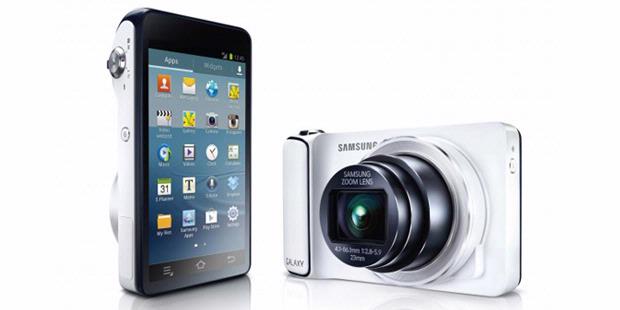 samsung
Camera Android is not new in the world of photography and the world of information technology.
One vendor cameras, Nikon, launching first android camera Nikon Coolpix S 800C, which is also a hybrid camera the marriage compact cameras and smartphones.

Galaxy Camera is a camera that can be said to be the first 3G born from previous Samsung camera technology improvements, technology equipped NX 210 Wireless Fidelity (Wi-Fi) in terms of connectivity.

With Wi-Fi technology, users can easily distribute photos jepretannya connected to another device or send photos via e-mail, even easily menyebarluaskanya in social media.
Wi-Fi technology also allows photographers to control the camera remotely via smartphone or tablet device.

For business connectivity, Galaxy Camera does not just rely on the capabilities of Wi-Fi.
But not half-hearted, 3G HSPA + (850/900/1.900/2.100) embedded in the camera weighs 300 grams.
There mikrosim card slot that can be used for all types of GSM operators.
In other words, you can connect with the virtual world at any time and anywhere without depending on the Wi-Fi connection.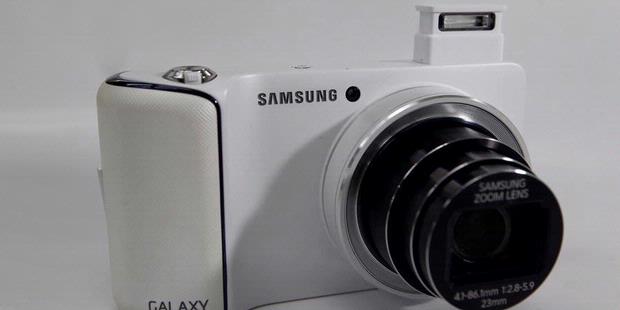 Samsung Galaxy Camera Review
The Camera Features
16 megapixel resolution camera is equipped with 23 mm wide lens with the ability to zoom up to 21 times so that they can capture a close-up objects at a distance of approximately 15-20 feet with still good quality.
This is supported also by the ability to achieve maximum image size 4608 x 3456 pixels (4:3 format), while the minimum size of the photo is available in sizes 2592 x 1944 pixels.

Camera settings entirely controlled through a touch screen measuring 4.8 inches.
The touch screen not only allows users to see images of objects clearly, but it also makes it easier to move the focus point with the touch and reset the camera faster.

There are three main menu of camera settings, ie Auto, Smart, and Expert.
For the Auto menu, as the name suggests, the camera is controlled entirely automatically.
Users only press the shutter release button on the top of the camera body or touching the shutter release button on the LCD screen.
While the Smart menu, available 15 shooting options for specific needs, such as macro shooting, panorama, landscape, and night shooting.
The menu is certainly easier for users shooting as needed without having to adjust the camera manually.

There are some interesting features on this menu option among others, the ability of shooting up to 20 frames continuously without stopping but still stay focused images of objects moving though.

Another interesting thing is the ease to create a panoramic photo.
The camera will guide the wearer to move to the left or to the right, raising or lowering the camera to keep the object image on the right position and not out of the frame panorama provided on the screen.
Users only need to press the shutter release button once, then the camera continues shooting automatically when we shift the camera in the right position.
If the camera position exceeds the available panoramic frame, the camera will guide the user to transform the camera back in the right position.

To make a 180-degree panoramic photo frames takes about eight photos.
After taking the last frame, the camera automatically processes panoramic photo.

In the Expert menu, Galaxy Camera displays the camera like an SLR digital camera, but in virtual form, from choosing a model shoot, Aperture Priority (A), Shutter Release Priority (S), Program (P), Manual (M) and Video
.
Of course, users can also raise and lower the speed (shutter speed), aperture size, light compensation, and ISO virtually anyway.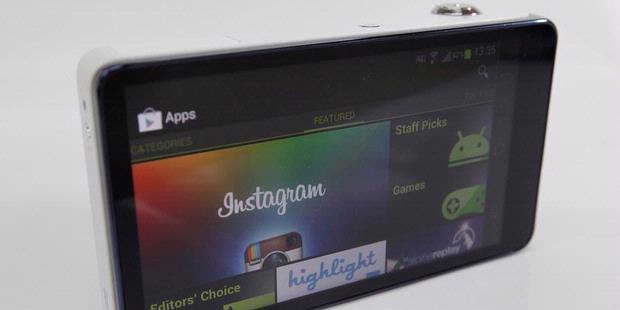 samsung galaxy camera features
samsung android camera


Work With Photos
The results sometimes do not fit the standard picture needs or wants, but do not worry because the process of photo editing can be done with this camera without the need for additional devices.
This is possible because the camera is operated with the Android system.
So what can be done tablet or smartphone's camera can also be done, including photo and video editing.

The first thing to do is to install the application into the camera through Google Play Store.
Applications that use the Photo Editor, to cultivate the appearance of images, such as adjust contrast, sharpen, cropping, until the white balance or resize photos.
To complete the image data as it fills the shooting date, file titles, photo captions (caption), location pemotratan, to get the name of the photographer, the application can be used is MoPhotos.

However, if both the above application does not match the needs or perhaps you do not have enough budget, do not worry.
There is now an online application to process images.

One site that provides applications to process images is Pixlr.
This site are providing some of the online application to process images from the simplest Pixlr Express, process images tingatan higher Pixlr Editor, or Pixlr-o-matic for those of you who prefer to process images as well as retro lomo camera.

The camera is also equipped with excellent video format, the Full High Definition 1920 x 1080 format (30 frames per second).
Another option that is not less interesting is the slow motion video 768 x 512 (120 frames per second).
Slow motion video allows users to capture a moment and make it in slow motion.

If you are not satisfied with the results of standard video, video editor application, which allows combining video with pictures and music.
There is also an additional menu for a scene cut scenes, add effects, text and video transitions.
Video results can be stored in multiple video sizes as you wish.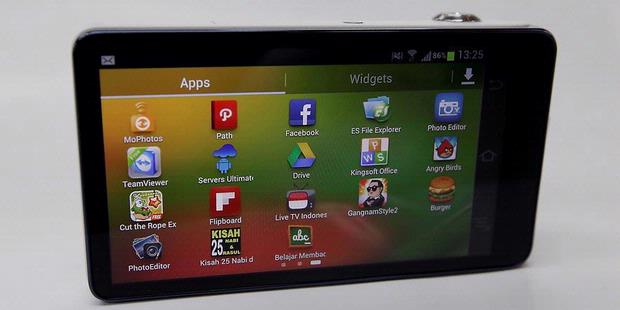 camera android
"Sharing" Photo
The advantages of this camera is in its ability to deploy images to a variety of medium.
There are some facilities provided, the first through the facility Share Shot.
With this menu option, any picture can be directly received by other devices on the spot.
Surely they are connected via Wi-Fi Direct.
Wi-Fi Direct principle similar to Bluetooth, the wireless network that uses radio frequency waves.

While not all devices have Wi-Fi Direct, only certain devices that are designed vendor already has Wi-Fi.
Galaxy Tab and Galaxy S III or Galaxy Note, among others that have been tried connecting through Wi-Fi Direct.

Wi-Fi Direct is not limited to there, this camera can also send one or multiple photos at once in the form of a group to multiple devices simultaneously connected to the same Wi-Fi network.
How this can be done through group Allshare Play cast on the application, which of course the application is already installed on each device.

Since the Galaxy Camera is connected to a 3G network and is operated using the Android system, another advantage of this camera certainly can deploy images to all social networks, e-mail, FTP, LAN, and which is important to keep all your photos and files to the cloud.
Through the cloud, of course, users do not have to worry about camera memory card is full or the file is damaged and lost because of any file stored on a server online that we can get for free.

We have had a lot of free cloud applications provide a capacity of up to gigabytes in size.
Applications can be downloaded free of charge such as Dropbox or Google Drive.
Dropbox provides free capacity of 2.5 GB for each account.
But do not worry if the capacity of 2.5 GB is not enough paid Dropbox provides storage for U.S. $ 9.99 per month for a capacity of 100, 200, or 500 GB.
Value Added
Because the camera is operated with the Android system, of course, all the things you can do smartphone or tablet device can also be done this camera.
Such as playing games, making a presentation file, Office texting, play movies, watch TV channels or listen to music.
All applications can be accessed through the Android Market or Samsung Apps Store.

One important thing, if the camera battery runs out, did not need to look for electrical connections because the camera can accept DC power supply from the power bank.

Camera technology trends in the future it will be more compact and connected to the network both offline and online.
It is not possible mirrorless camera or a digital SLR camera will follow the trend of online with more diverse operating systems, not just Android.

If you must make a judgment, this camera is ideal for mobile users, love to travel but do not want complicated with a lot of gadgets and certainly can still stay connected with the virtual world.
So, we wait for the next camera development will look like.